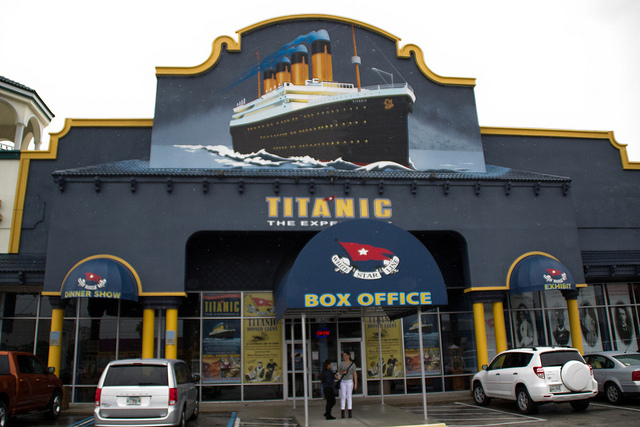 In today's economic climate it is difficult to plan a vacation that fits within one's budget. Being able to take a trip to a world class destination such as Orlando, and surprise your family with a bundle of Disney World tickets is unimaginable (as awesome as that may be). However, you may be surprised to learn there are an array of activities available to you and your family in this magical city that will not break the bank.
Allow me to take you on a tour of just some these low budget attractions now.
Touring Orlando, Recession Style at Ripley's Believe It or Not
For more than 40 years, Robert Ripley traveled the globe collected bizarre objects and relics. Even before entering this museum you will stop find yourself staringat the structure itself. It was built to appear as if it is slipping into a Florida sinkhole. The building has aptly been named the "odditorium. The flloor space equals 10,000 square feet, with 16 different galleries for your inspection.
Some of the newer items added to the collection are a 7 legged sheep, a mural of Jimi Hendrix consisting of 8,500 playing cards measuring 25 feet in length and, in keeping with the Florida theme, why not an 8 foot long fish. These join perennial favorites like a replication of the "Wall-E" robot made entirely from auto parts, the sculpture of a dog made from clothes pins, and an authentic shrunken human head! There are new optical illusions to view as well, along with the ever present word puzzles and brain teasers to solve. Ripleys is open 365 days a year and tickets can be purchased online for as little as $10.99 for children under 12 and $16.99 for adults.
Touring Orlando, Recession Style at Titanic: The Experience
This is one of the newer exhibits in Orlando and one of the most interesting too. With input from James Cameron, who directed the epic film of this ship's final voyage, it is replete with interesting facts involving this maritime tragedy. It is as much a show as it is an exhibition, given the costumed performers who tell the ships tale dressed in clothing from the time period. Rooms identical to those present on the vessel have been reconstructed for you to visit. And – absolutely bizarrely enough – try not to miss the ghost tour conducted every Thursday, which involves actual encounters with the hereafter experienced by the shows staff.
There are over 400 historic pieces recovered from the boat on display. Children age 3-11 are $12.95, under 3 are free. Adults tickets cost $21.95 with seniors, 65+ being $19.75. Tickets for the ghost tour must be purchased seperately.
Touring Orlando, Recession Style at Gatorland
This description will be a short one, since I think the name of this Orlando favorite says it all. Lets just say it's a 110 acre park filled with you-know-whats and crocodiles, too. Believe it or not (and I don't mean Ripley's), there is a petting zoo for the little ones and shows that include gator wrestling, jumping and (oh my!) "close encounters." Enough said? Adult admission is $21.99 and children 3-11 are $13.99.
Touring Orlando, Recession Style at Universal Studios
I have saved the best and perhaps most surprising location on our Orlando budget tour for last. The world famous Universal Studios cannot be missed during a visit to this city. The rides and attractions are too numerous to attempt to cover in this short article, but I must make mention of the special Halloween Horror Nights 22, running now through the end of October, and The Wizarding World of Harry Potter being one of the newer rides. Universal Studios Orlando tickets may be purchased online for less than $60 for an entire day of fun and adventures. Even better, this offer includes a coupon book worth $150 of savings while in the park.
You will never forget the memories made at any of these locations and, best of all, you will return home with money still in your pocket, having toured Orlando recession-style.