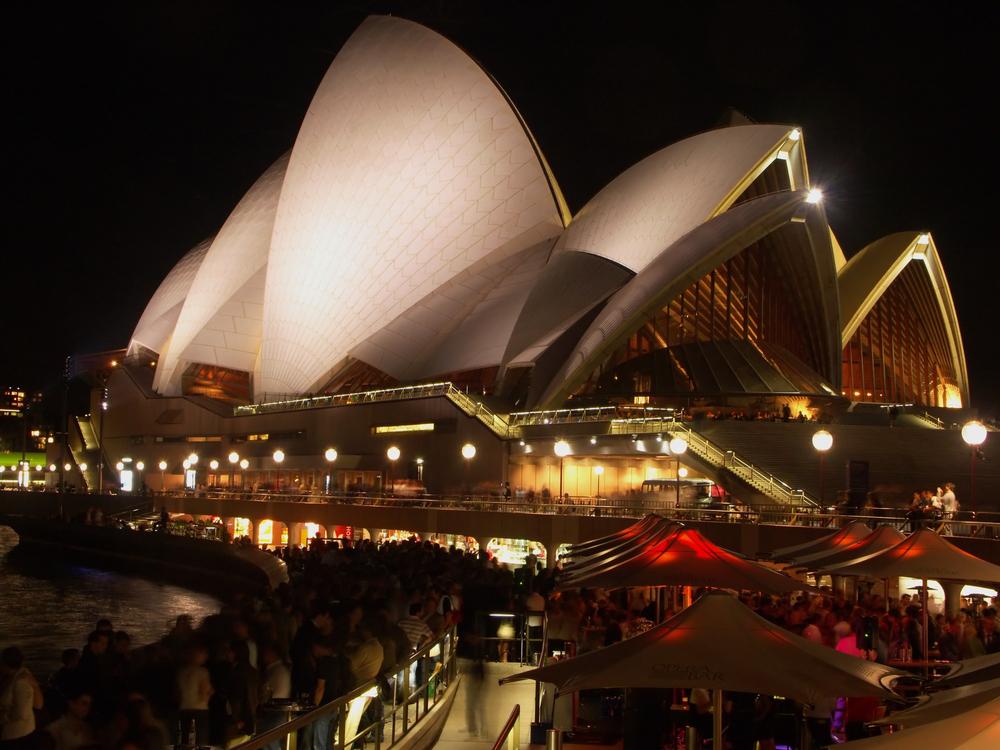 Sydney is home to beautiful bays, quaint parks, and scenic sights that would make any person feel at least a little bit more romantic. With the summer season heating up in Australia, so is the possibility for romance blooming in the air.
From the Opera House to the funky Newtown, there are an endless variety of places and things you can do to wow your date. Regardless of whether it's a new flame or a life partner, here are six sexy date ideas that are dressed to impress.
The Quintessential Sydney Date: The Circular Quay/Rocks Experience
Nothing says Sydney quite like the Sydney Harbour Bridge, so why not take your date on a journey through the iconic city sights? You'll be sure to dazzle and impress with views of the Opera House and delectable food and drink designed to match your exquisite experience. Begin at the Shangri-La Hotel and ride up to level 36 – here you'll find Blu Bar on 36, home of great cocktails and a view of the city from high above. After this, pop down for dinner at one of the many restaurants in Circular Quay before taking a wander around the harbour to The Rocks. Have a drink at The Argyle or stop by the Guylian Café for an after-dinner treat – you'll be sure to woo anyone that you're with.
Blue Mountains Day Trip
You won't feel blue up here, despite the name. With picturesque scenery, bushlands galore, and waterfalls hidden along the trails, you'll struggle to worry about anything while you're in this slice of paradise. Take a walk around the trails, ride the gondola with the bushland in the backdrop, and bask in the beauty of nature – plus, if you want to stay the night, you can always look on Accommodation.com for a picturesque place to relax and have some much needed couple time.
Laser tag, blackjack and Cockle Bay
Touted as one of Sydney's favourite locations, nothing beats a day or night in Darling Harbour. Start with a meal at Hurricanes or Crinitis, then wander into Harbourside Shopping Centre for a spot of bowling and laser tag. At night, dine at the Meat and Wine Co – make sure to stop by on a Saturday around 9pm for a free fireworks display as well – and then try your luck at the blackjack or roulette tables in Cherry Bar at The Star.
For those who like picnics…
Sydney is packed to the brim with picnic locations that boast picturesque views of oceans, flora, and fauna, so why not pack a picnic and enjoy the day? Visit McMahon's Point, Blues Point, or Lavender Bay for a bite to eat by the water. For those who would like to venture out further, the Auburn Botanical Gardens are ideal – however, you can also catch a ferry to Cockatoo Island and enjoy a secluded lunch in one of Sydney's most historic islands.
Drinking, drinking, and cocktails…and drinking
One of the best ways to ease those first date jitters is to have a drink (or two, or three) – responsibly, of course! With an eclectic range of bars, Sydney's nightlife is one of the finest you'll find in the world. Stop by at Opera Bar for views unlike any other, or embrace several of the bars in the CBD like Stitch Bar, The Ivy, or The Loft.
A little bit alternative
For those who are trying to go for a first impression of alternative, quirky charm, then Newtown is your best bet. Home to Melbourne-esque bars like Corridor and more Thai restaurants than in Thailand (not really, but there are plenty), you'll be sure to impress your date with this funky vibe.
Author bio: Janet Hollow is a Melbourne writer who wishes she lived in Sydney. She always visits the Harbour City – lately, she's taken to using Accommodation.com to find her hotels.
Image source: Neale Cousland, LingHK, Ashley Whitworth