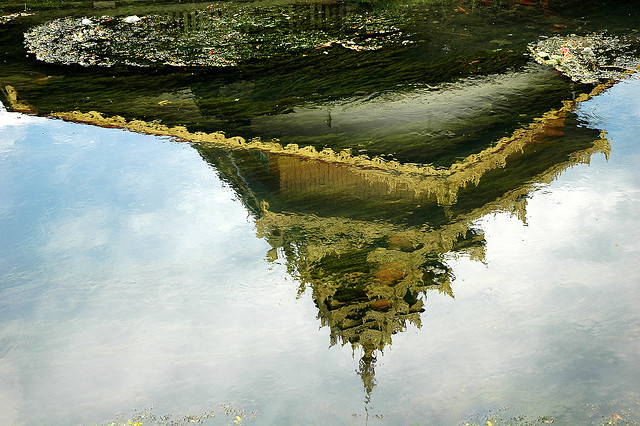 With the prospect of democracy retuning to Myanmar and the increasing popularity of the country with Western travellers the current budget travel opportunities may soon become a thing of the past.
On A Budget in Myanmar -
Mandalay
In terms of many of the other splendid and ancient cities in South East Asia, Mandalay is relatively young, it was only founded in 1857 and most of its major buildings are those built by the British when they ruled this part of the world under the administration of their Empire. For backpackers and other travellers on a budget Mandalay can still be a cheap place to visit. In order to reach the city from other areas of Myanmar, try taking a local bus, you might find yourself surrounded by all types of packages as well as other goods but at least you'll be able to look out onto the landscape and if that gets boring most of these buses have a colour TV transmitting above the driver's head! There are many differing types of organised tours to Myanmar, which will be able to point out the most interesting parts of the city but for those of a more independent nature then getting around Mandalay should prove very cheap.
On A Budget in Myanmar -Getting Around
The city has trains and boats departing on a daily basis to other parts of the country but to circumnavigate Mandalay itself you can hire a bike, go by foot or use one of the many taxis but remember to negotiate the price, the city also has a rather archaic tram system, which can get very crowded during rush hour.
On A Budget in Myanmar -Hsipaw
The real beauty of Myanmar lies in its countryside and its stunning temples. Or if you want experience a 'local' town, head out to Hsipaw travelling down the Dokehtawaddy River. The town is set amidst beautiful waterfalls, paddy fields and natural springs. Hsipaw is home to the indigenous Shan people. For your stay here try out Mr Charles Guesthouse that welcomes backpackers and offer clean rooms in both the new and older parts of this hotel. There is no Wi Fi so communication with the outside world is limited. The daily local market is worth a visit and is an excellent way to get to know the local Shan people who are hospitable and charming. Many other travellers tend to head to Hsipaw to unwind before heading off to trek in the nearby mountains. Try and stop off at the ancient Royal Palace that was inhabited by the last Shan prince until his disappearance in 1962, the Palace is in a state of dilapidation and you will have to check and see whether it's open as this is not always the case.
On A Budget in Myanmar -Mahamyatumni Paya
Just outside of Hsipaw lies the town's largest religious building; there are many statues of Buddha here as well as the golden-topped roofs of the pagodas and shrines that comprise this site and if you're very lucky you'll be able to wander around the shrine on your own and just enjoy the tranquillity.
CC Tarotastic