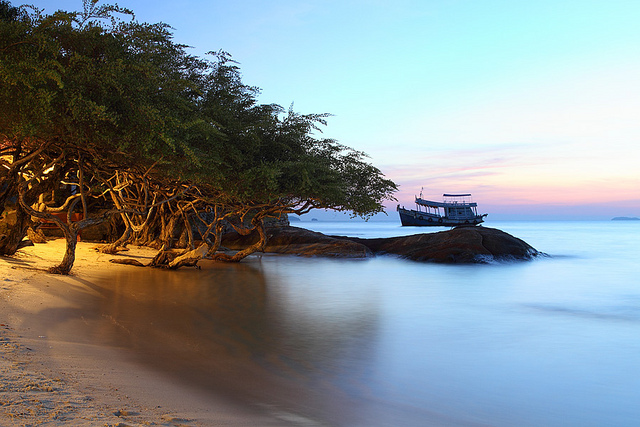 Newly married couples who are looking for a tropical hideaway will find a number of enchanting islands that are just waiting to be discovered. What follows is a selection of five of the best islands for honeymooners to enjoy and an overview of what they offer.
Boracay
This enchanting island is located just over 300 kilometres to the south of Manila and is famous for its white sandy beaches fringed with palm trees and crystal clear water. Balinghai is the perfect place for honeymooners to sit and watch the tropical sunset in the evening, while couples who have plenty of stamina and are interested in adventure can complete the 100 metre trek to the top of Mount Luho to enjoy stunning views of the entire island. The luxurious resorts located along White Beach feature spas where couples can enjoy plenty of pampering, while the island also features a number of more secluded resorts.
Koh Samed
This tiny island can be found just three hours away from the capital city of Bangkok in Thailand. While the main stretch of sand known as Sai Kaew Beach is full of bars, restaurants and other amenities, the very southern tip of Koh Samed features a number of secluded beaches scattered with luxurious resorts that are ideal for honeymooners. The resorts here feature everything that young couples could possibly want, while staff are on hand to provide room service around the clock and arrange snorkelling and scuba diving trips. 
St Kitts
Couples who are looking for pure tranquillity in a tropical setting are sure to enjoy this island in the Caribbean. Wooden cabins can be found nestled in amongst coconut groves, and snorkelling in the cool clear waters that lap the shore is an unforgettable activity that honeymooners can enjoy together. 

St John
This remote island is part of the US Virgin Islands chain in the Caribbean. Unlike its more popular neighbours, much of St John is untouched and provides the perfect romantic setting for those who simply want to unwind and soak up the scenery. Honeymooners can set up their nest in one of the stilted tree houses that can be found at Maho Bay, while more luxurious accommodation can be found at Cinnamon Bay for couples who enjoy creature comforts. 

Bazaruto Island
Mozambique is famous for its stunning beaches and tropical climate, and Bazaruto Island is certainly no exception. The island is just four miles wide and 22 miles long and is surrounded by the warm waters of the Indian Ocean. The resorts that can be found here are particularly luxurious and feature amenities such as spas, hot tubs and private outdoor showers, which allow couples to appreciate the full beauty of this island and enjoy an intimate moment together. There is also a wide range of activities available here, including bird watching, horse riding, diving and snorkelling.
Direct Travel Insurance offer the best value travel insurance for couples.
CC Nate2b