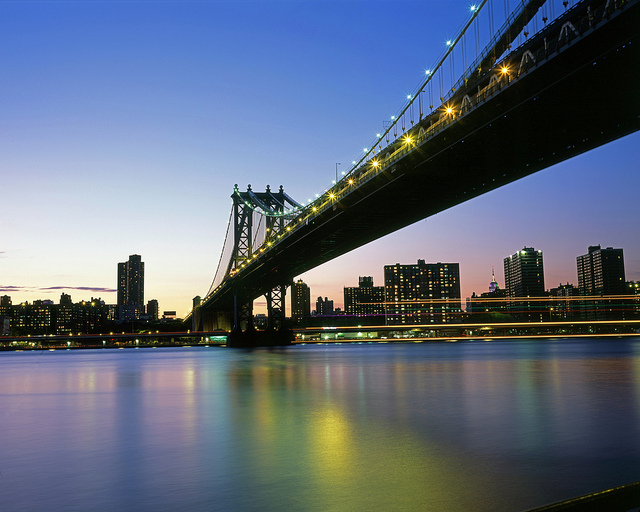 Exploring New York City in the winter can be a fun and joyous experience. As the winter holidays approach, the city turns from a dark and slick urban world to a winter wonderland. Many of the attractions are made for people with a little extra cash to burn, but that shouldn't keep a person from seeing the sites. Below are a few low-cost ways to help explore New York City in the winter.
Best Bargains Things To Do in New York This Winter - Grand Central Station Kaleidoscope Light Show
From December 1st to January 1st, the wizards at Grand Central Station put on a laser light show. Running from 11am to 9pm daily, the show is repeated every half how. It is free to the public so all a person has to do is show up. There are restaurants and shops around the area, but a snack can be purchased for cheap.
Best Bargains Things To Do in New York This Winter - Crossing the Brooklyn Bridge on foot
During the winter, the Brooklyn Bridge isn't as busy as during warmer weather. This shouldn't deter anyone from walking across the bridge and seeing the sites. Since there are fewer people, the walk can be at a much slower pace. The Statue of Liberty can be seen from the bridge, as well as many famous local landmarks. This is free and just takes muscle power.
Best Bargains Things To Do in New York This Winter - Viewing the Tree at Rockefeller Center
From November 28th to January 7th, the famous Rockefeller Center Christmas tree will be on display. Dressed up in Holiday cheer and greeting all comers, the tree has been on display for 80 years. Viewing the tree is free, but it does cost money to dine at restaurants around the area. Ice-skating also costs money. Skate rentals are $8 while admission is between $10 and $14.
Best Bargains Things To Do in New York This Winter - Holiday Window Shopping
New York during the holiday season is like looking at a festive, wonderful city. Strangers become ever so much nicer, the roads are filled with bright snow, and stores dress up their windows for all to see. Walk around Central Park to see many of the famous stores in their Holiday garb. Times Square is even lit up with Christmas spirit, so don't forget to check that timeless place out. Looking is free, though money spent on desired items will cost.
Best Bargains Things To Do in New York This Winter - Go on a walking tour
Several walking tours of New York City are available for all to join. These tours are often free and focus on the cultural and historical impact that New York City has had on the country. One example is a free walking tour of Times Square that starts every Friday at 12 pm. This is found at the Times Square Visitor Center on 7th Avenue between 46th and 47th streets.
Best Bargains Things To Do in New York This Winter - Watching the Ball drop in Times Square
After the bulk of the winter festivities are over, the New Year always comes around. A fun and free activity is going to Times Square to watch the ball drop. Ring in the New Year with a romantic partner or with friends and family. This is free for all comers.
Bio – this article was written by Ross who is a freelance travel blogger and writes at blog.netflights.comand loves NYC!