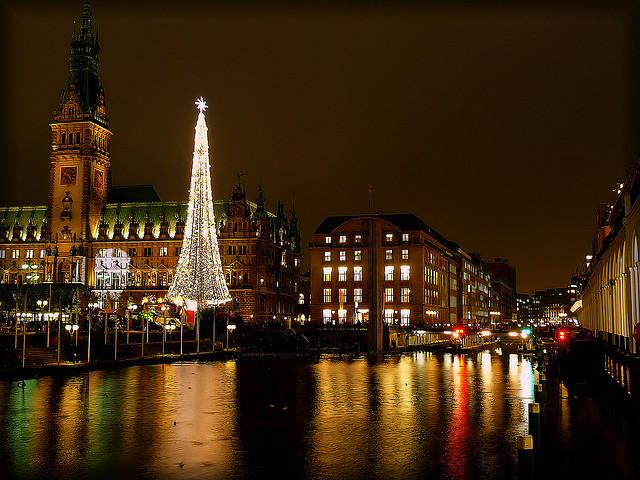 As Europe's summer travel destinations shut down for the winter, you may be left pondering where to head to in the colder months. Germany, one of Europe's biggest countries and one of the most modern, could be just the ticket.
With cheap flights from companies like Flybe, discover the famous German culture of beer halls, markets and delicious cuisine without breaking the bank. Thanks to its bohemian style and liberal attitude, Berlin tends to garner the most press. However, cities like Hamburg, Munich and Dusseldorf have a lot to offer too.
In recent years the number of stag groups heading abroad has risen exponentially, and Hamburg has become a popular destination. Despite the rise in these types of holidays, Hamburg has retained its culture and remains a beautiful and modern city. Low cost flights from Glasgow airport connect the north of the UK, so flying doesn't have to mean a trip via London.
No trip to Hamburg would be complete without casting a wary eye over the Reeperbahn, the city's red light district. However, this part of the city isn't solely about the seedier side – there are plenty of great bars, clubs and restaurants hidden away, and finding them is all part of the experience.
During the day, Hamburg is best seen from the saddle of a bike. The city has a cycle hire scheme that allows you to enter your credit card details and go. So saddle up and ride around the lake before making a stop at the Kunsthalle Museum to swot up on modern art.
Munich is a must for your itinerary, if possible. Located in the heart of Bavaria, the city is steeped in tradition. Flying into Munich is easy with its good links to the UK, and you can fly in from numerous locations across the country, including Norwich, Cardiff and Edinburgh airport.
Munich is an exciting city, with clean air, modern transport and pristine architecture. The people are warm, gregarious and extremely appreciative of those who respect their town. This makes the city a great place for families to visit, as they can enjoy the open-air restaurant gardens (under heaters, of course), cafes and nearby forests walks.
Possibly the least visited city out of the three German cities covered is Dusseldorf. However, that's no reflection on the city itself and you'd really miss out if you didn't visit. If you want a totally different German break, then you should go to Dusseldorf.
Witness the art and architecture of the likes of Frank Gehry in Medienhafen, an up-and-coming creative area, or dive right into the nightlife. Dusseldorf is the proud owner of 'the longest bar in the world', and finding a decent drinking spot shouldn't be hard. The city is home to over 300 bars and clubs and it even serves its own specialty beer known as Altbier (or 'old beer' to you and me).  Dusseldorf is bright, modern and happening, and there's no doubt its popularity is on the rise.
So when you think of heading off on an autumn or winter break, bear in mind that Germany is as accessible as the rest of Europe.
CC Elbfoto